In the last installment of A Guide to Investing with Fund That Flip, we explained how to utilize Fund That Flip's platform to make wise investment decisions and keep track of your investments. In this article, we'll further discuss all you need to know regarding receiving payments from your investments. Keep reading to learn more!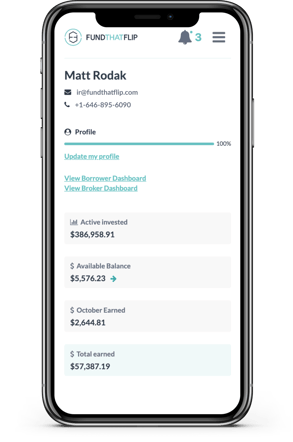 Receiving Payments
Interest payments are calculated on a monthly basis. Calculations assume that every month has 30 days except for stub interest. Stub interest is the interest received for the month of origination of the loan. This interest is calculated using the actual number of days in the month. You will start accruing interest the day you receive your accrual date. Your first interest payment for that investment will be prorated off of that date.
Interest payments are processed for the previous month on the 15th of the current month. So, if your accrual date is in August, your first interest payment will be received in the middle of September. Principal is paid to investors once the borrower repays the loan. Once the borrower successfully exits the loan, whether by completing the project or refinancing, we take those proceeds and distribute it to the investors. It is important to note that Fund That Flip has first lien on the property. Should the borrower go into default, we can foreclose on the property and assess whether to complete the project or sell as is to protect investors' interests.
How to Connect a Bank Account
To connect your bank account, navigate to the "Accounts and Balances" tab of your investor dashboard. To the right of your selected entity, you will see a button that says "Add Bank Account." Click on it and enter the appropriate information. Once that is complete, two microdeposits will be sent to the bank account you added. Once you see those deposits, come back to the "Accounts and Balances" tab, click on "verify" next to your account. Enter the amounts of the microdeposits and your account will be verified.


You are able to invest with your SDIRA on our platform. We will do whatever we can to work with your custodian and satisfy their requirements in order for them to allow you to invest with us. Ultimately though it depends on the custodian. Some custodians that we have successfully worked well with in the past include; Strata Trust Company, Equity Trust Company and Preferred Trust Company. Simply choose the SDIRA entity when creating your investing entity and enter the appropriate information. If your SDIRA has checkbook capabilities, be sure to set your entity up as a company.
You should receive your microdeposits within 1-2 days of adding your account to your dashboard. Once you see them, you can use them to verify your account. You can make investments with an unverified account. Those investments will be reserved but in a halted status until your account is verified. The tax document you will receive is a 1099-INT for interest payments made to you.
Read previous or next article:



Ready to make another investment? Browse our open deals and earn as high as 10% annual returns!