Philip Menaged grew up in Colombia, where he watched his uncle successfully run his own businesses as an entrepreneur. He cites this and the '08 financial crisis as reasons for wanting to emulate his uncle when it came to his own family. Between working for large fashion retail companies and moonlighting in the mortgage industry, Philip eventually started rehabbing homes with a variety of partners and established himself as a Philadelphia home designer to watch, with write-ups in publications including Philadelphia Magazine and Business Wire.
We caught up with Philip between visits to his properties to discuss his journey with real estate investing and where he hopes to be in the future. He began his real estate investing career in 2000, and after 22 years, he runs Legancy Real State Development LLC with his partner Freddy Espana and has rehabbed hundreds of properties. His long-term goals involve owning 1,000 properties in five years, with 100 by his 50th birthday.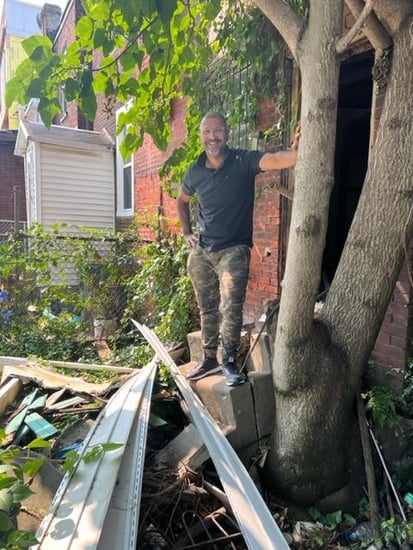 "Lacara Del Santo Hace El Milagro"
Philip originally hesitated about getting involved with hard money lenders when it came to funding his real estate deals. This didn't stop Antonio Campanelli, Territory Manager for Philadelphia at Fund That Flip, from calling. Antonio saw the potential for scale.
"He was persistent. I liked that," said Philip.
When Antonio showed up at a job site, and the need for fast funding was too real to ignore, Philip saw this as a sign. "There's a saying... 'the face of the saint does the miracle.' Lacara del santo hace el milagro. That was what happened to me."
Philip had many quick-bite phrases and insights like this to offer up during our conversation. One that stuck out involves what seems to be Philip's mantra in life, business, and otherwise: "Put more trust in your faith: Believe a little stronger."
Philip expressed his appreciation to members of the Fund That Flip team who has made his process smooth and easy. "Drea, I adore her. And Scott…. I want to make sure we shout them out here. You're only as good as your people. Your people are your bread and butter."
Check out the amazing before and after shots of one of his recent projects below:
Check out our Hard Money Lender team in Pennsylvania or Click below to get started: