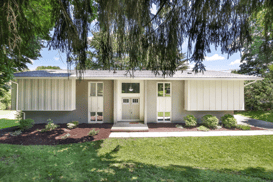 Flipping houses in Ohio can be very exciting! We have supported many real estate investors who have been very successful at flipping houses in Ohio during the last several years. This month, we're excited to feature a recently completed flip of a single-family home in Fund That Flip's backyard of Akron, OH. This property was in need of a major rehab, and our borrower was determined to make it beautiful for the next owner. He completely rehabilitated this waterfront property in just five months. Fund That Flip was there to help the borrower transform the property into a modern, luxurious home through the help of a short-term fix-and-flip loan.

Check out the video below to see how the redeveloper brought life back into this investment property and value into the community while flipping houses in Ohio!


This all-star repeat customer who has worked with Fund That Flip on multiple investment properties, saw the perfect opportunity to rehab this house and turn a profit using the short-term financing that we provided. After successfully completing the project, the borrower saw great return on investment, as they sold the property for nearly double the purchase price. This home features a modern, open floor plan in the main living space. The kitchen is fully equipped with stainless steel appliances and a beautiful countertop, perfect for entertaining guests. We are proud to showcase how our short-term private money loans help to restore properties just like this one.
Ohio Housing Market

If you are interested in flipping houses in Ohio, it's important to understand the housing market throughout the state. For example, the median home prices differ dramatically from city-to-city and county-to-county. According to Cleveland.com, the median home prices range from $267,600 in Delaware County to $114,400 in Tuscarawas County and then to $84,100 in Vinton County which has the lowest median home price. That difference of just over $180,000 between the highest and lowest figures are extremely important to consider when targeting your next real estate investment opportunity.

It's particularly important to keep this real estate market specific pricing data in mind when you're crunching numbers in advance of purchasing a home to flip. One of the more common rules to help with the house-flipping process is the 70% rule--that in general you shouldn't pay more than 70% of the home's after-repair value (ARV) minus the cost for the repairs you will make after buying it. If you can't purchase an investment property for a price that fits within the constraints of the 70% rule it might be best to explore other areas.

Do you have an investment property ready for a transformation like this one? Apply in under two minutes to get fast funding for your next real estate deal. Better than hard money. Get funded now!
Looking for an alternative to stocks? Investors can earn 8-10% annual returns on pre-vetted, low LTV, real estate-secured loans. Fund That Flip offers industry-leading visibility into each project, enabling investors to be highly selective in the loans they choose to fund. Click below to make an investment today!