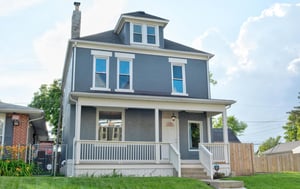 If you're interested in flipping houses in Columbus, Ohio, there's a lot you could learn from this recently completed single-family fix-and-flip project that was funded by a short-term loan from Fund That Flip. This home was in need of a major rehab and our borrower did a great job fixing it up. Fund That Flip was there to help the borrower transform the property into a modern, beautiful home through the help of a hard money fix-and-flip loan. Check out the video below to see how the redeveloper brought life back into this investment property and value into the community while flipping houses in Columbus, Ohio!


This repeat borrower saw a fantastic opportunity to rehab the exterior and interior of this property and turn a profit through financing with a fix-and-flip loan. After successfully completing the project, the customer was able to sell the property for nearly two times the purchase price. This home has a spacious floor plan with tons of natural light and exposed brick accents. The kitchen features a large island, stainless steel appliances and beautiful cabinets. We're particularly impressed how the borrower transformed a dark and distressed structure into a welcoming, modern, open space. We are proud to showcase how our short-term private money loans can bring value back into neighborhoods.
Columbus, Ohio Housing Market
According to Realtor.com, the median sold home price in Columbus, Ohio is $226,000. Over the last several months, the housing marketing in Columbus has been a buyer's market--which means there are more active homes for sale than there are buyers at the moment.

But at the same time, homes in Columbus have still been selling faster than average when compared to nearby cities in Franklin County. Per the latest numbers, it takes an average of 48 days on the market to sell a home in Columbus. Some of the most popular neighborhoods in Columbus include Upper Arlington, North Linden, Grandview Heights, Downtown Columbus, Highland West and German Village.
Are You Ready for Your Next House-Flipping Project?
Do you have an investment property ready for a transformation like this one? Apply in under 2 minutes to get fast funding for your next real estate deal. Better than hard money. Get funded now!
Looking for an alternative to stocks? Investors can earn 8-10% annual returns on pre-vetted, low LTV, real estate-secured loans. Fund That Flip offers industry-leading visibility into each project, enabling investors to be highly selective in the loans they choose to fund. Click below to make an investment today!