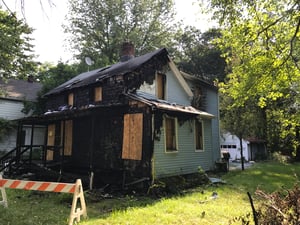 Flipping houses in New Jersey can be a great investment opportunity. This month we're excited to feature a recently completed flip in Teaneck, NJ. The real estate investor took on the challenge to attempt to buy, renovate, and sell a fire-damaged property and had great success. This home suffered from extensive fire damage and was an eyesore in the neighborhood. Fund That Flip was there to help the borrower transform the property into a modern, beautiful home.

Check out the video below to see how the restoration services brought life back into this home and value back into the community.

The fire damage on this home was a great opportunity for the borrower to transform this New Jersey property. After successfully completing the project, the customer was able to sell for 4x the purchase price. This home features a newly designed kitchen with updated cabinets, flooring, lighting and appliances. We're particularly impressed how the borrower transformed a dark, cramped structure into a welcoming, modern, open space. We are proud to showcase how our short-term private money loans can introduce value back into surrounding neighborhoods.

Do you have an investment property ready for a transformation like this one? Apply for house flipping loans in under 2 minutes to get fast funding for your next real estate deal. Better than hard money. Get funded now!
Looking for an alternative to stocks? Investors can earn 8-10% annual returns on pre-vetted, low LTV, real estate-secured loans. Fund That Flip offers industry-leading visibility into each project, enabling investors to be highly selective in the loans they choose to fund. Click below to make an investment today!