Everyone loves a dramatic before-and-after, and that's why we wanted to talk to QC Flippers about their incredible fix-and-flip exteriors for this installment of the Flipside (they do great interiors, too). Krina "Kri" Patel and Jaimal "Jay" Patel, the sibling team behind QC Flippers are responsible for some amazing, jaw-dropping home rehabs. The Fund That Flip Content Team jumped on a call to talk about how they approach exterior design and curb appeal.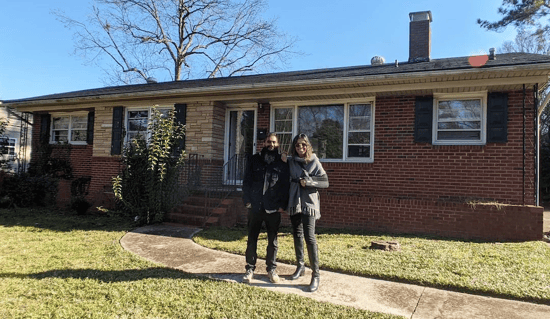 Before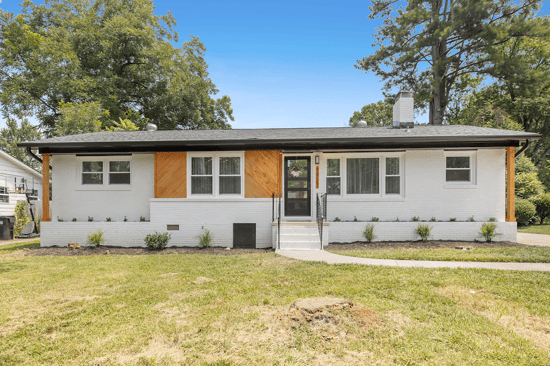 After
Tip 1: Let the inside influence the outside
Krina: I try to visualize the interior of the house first, and then bring those colors and ideas to the exterior. So if we're working on a mid-century modern home, for example, the exterior can be a little bolder because the interior style is also bold by design.
Jay: We want to make sure the exterior matches the "flow" of the house.
Krina: Once we're working on an exterior, I consider the main feature, then the accent. So, first the siding color, then the brick, and so on. We had a house where we painted the brick white first and then the siding brown and it was just... ugly. So from then on, we decided the siding color has to match the interior because we focus on one color in the interior as well.
Tip 2: Everyone loves neutrals
Krina: Neutral paint colors are popular right now, but they're always in style. We always paint our brick homes, which is a bit of a fad but it looks cleaner and we always paint neutral colors.
White and grey with a pop of color on the front door or a stained wood feature looks really nice, and it also allows the buyer to more easily make the home their own by adding their own colors or touches.
Tip 3: Let ugly features help with the ROI
Jay: The homes we're buying need work or have features people don't really like anymore, like front-loaded garages and vinyl siding. Mid-century homes play really well with stained wood. So we'll remove the old vinyl siding and replace it with stained wood, in this case, white pine, which is a little more expensive but gave the home a really seamless look. From an appraisal standpoint, they might not really care that we used a really high-quality wood for an aesthetic look. But if any house has vinyl siding we're immediately pulling that off and putting on Hardie® board or wood because they are more durable.
Or if we had a house with a front-loaded garage in a neighborhood where it didn't make sense, we would turn that into a heated space. So the home gets more square footage of living space and we just have to fix up the front to match the rest of the exterior. That would most likely lead to a bump in the value of the home.
Tip 4: Curb appeal is in the details
Krina: The front door is the most important part of reselling a home. It's the focal point. And nice doors are always out of stock so you have to order them ahead of time, especially right now. Sometimes we'll wait a little longer just to get the exact right door for an exterior.
The walkway can also make a big impact — visually, you don't want it to have too many cracks. Overgrown bushes and shrubs, trees with dead branches — or too many trees, can make the exterior look bad.
Replace light fixtures, railings, and house numbers. They can be chipping or just out of date. Putting in new ones can help with the flow of the interior to the exterior, with similar metals or styles.
Tip 5: Be inspired by the neighborhood
Krina: Something that's really important is considering the neighborhood the house is in. Right now, bold exterior colors are really in, but it might not make sense for that neighborhood. We also focus on landscaping a bit to make sure there's grass and such. We want our houses to stand out as well as feel connected to the rest of the community.
---
Follow QC Flippers on Instagram, Facebook, and YouTube.
---
Have land or an investment property ready to be transformed?
Apply in less than two minutes for fast, reliable funding.
Or earn passive income with up to 9% annual yield investing in pre-vetted, low LTV real estate deals.