Did you know that in 2022, 19% of single women are homebuyers (compared to just 9% of single men)?
Additionally, more than 64% of all realtors are women, as well as 32% of architects and 83% of interior designers — so if you want to sell a desirable house, it pays to have women on your team.
Women make up only 11% of the construction industry, but every day, more and more women are joining the real estate investing industry, either as house flippers, builders, or landlords or by passively investing in residential rehab loans.
However, with real estate investing, or investing in general, an article for Forbes by real estate investor and co-founder of GoodEgg Investments, Annie Dickerson states that only 29% of women see themselves as investors, and only 25% are comfortable about their knowledge of investing.
More Women Getting into Real Estate
In Columbus, Ohio, frequent Fund That Flip collaborator and partner, Misty Linn hosts a regular LINK Event series, aimed at educating women about passive and active investing in real estate.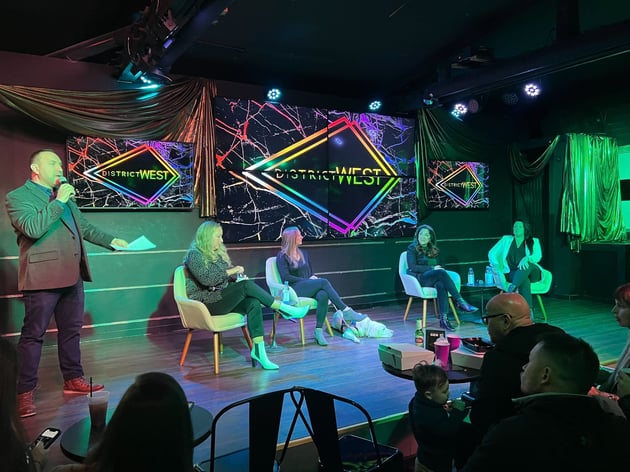 From left to right: Amanda Williams, Stephanie Sanzo, Gloria Urrea, Misty Linn.
Each event features a panel of women leaders and entrepreneurs in the real estate industry, as well as networking opportunities for everyone attending. The most recent LINK Event on International Women's Day, sponsored by Fund That Flip, featured speakers:
Several Fund That Flip employees attended the event, and these were their takeaways:
Megan Sarles, Real Estate Analyst
Gloria Urrea's story of how she came to the U.S. with just a suitcase and $600 but grinded and had a boss mentality that allowed her to build her real estate business to what it is today was awesome. It really adds an emotional aspect to the financial side of real estate and makes me grateful that we get to help people grow their businesses and help their communities.
I loved being able to meet our borrowers face-to-face and hear their personal stories. It makes my job feel a lot more impactful.
Charles Essi, Business Intelligence Manager
I drove to the event last-minute, wanting to learn more from Fund That Flip's borrowers and rock stars in the industry like Misty. I got that, but so much more — LINK Events are about more than real estate, business cards, and professional pointers. They are REAL conversations about personal development and doing what it takes to become successful. A lot of powerful and inspiring women from all areas of real estate in the room that I hope to continue to learn from.
Laurie Ferrante, Lead Closing Specialist
I have been to three LINK Events, and I love hearing all the inspiring stories. It's not just about real estate, but about being resilient, hard work, and how everyone is out there doing their hustle.
I loved this quote from Amanda Williams:


You can run away from your mistakes, but what are you running away from in your business? What are you avoiding and blaming other people for? What dreams are you avoiding?"
I think so many people don't get started because they're worried about doing it wrong, but could that be preventing you from doing what you've always wanted? It's awesome to see all these women (and men) come together to lift each other up and help each other learn more as a way to become financially independent or start a business.


---
If you'd like to attend a LINK Event in Columbus, OH, or other Fund That Flip-sponsored events throughout the U.S., keep an eye on our event calendar.
For more information on getting started in real estate investing online, check out our easy, 12-step guide.
Sources:
https://www.bankrate.com/real-estate/history-of-women-in-real-estate/
https://www.auction.com/blog/women-breaking-new-ground-as-real-estate-investors/
https://www.forbes.com/sites/forbesrealestatecouncil/2019/02/25/why-more-women-should-invest-in-real-estate/?sh=9624ec610ac2