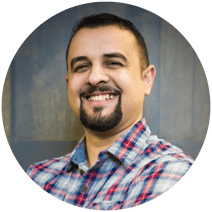 "We've been working with Fund That Flip since 2018 , and it has been an amazing experience. They have an awesome team to work with and offer great communication."

Hear how one Fund That Flip customer leverages our bridge loans to increase his velocity and expand his real estate business. Ali Khirbeet and his team at 180 Property Development specialize in residential development in the Columbus, Ohio area.
As a young adult in Iraq, Khirbeet had a successful career working in construction and helping non-profits develop communities. He moved to Columbus in 2012 and started to work cleaning and remodeling jobs in hopes to build a construction company one day. This dream was realized in 2016 when Khirbeet partnered with Samuel Fung, a top-tier interior designer for Fortune 500 companies, to start 180 Property Development. Shortly after launching their business, Khirbeet was diagnosed with cancer. With bills continuing to accumulate he felt the pressure to provide for his family and grow his new business. That's when Fung suggested the pair venture into real estate development. Since 2018, Fund That Flip has helped Khirbeet and Fung scale their business, financing nearly $6M in real estate projects.

Watch the video below to hear more about how Fund That Flip has partnered with 180 Property Development to achieve their mission of "creating uplifting environments that will enrich the quality of community life."

Check out Khirbeet's latest project, a 7-townhome portfolio project financed by Fund That Flip. Watch the walkthrough and see how he takes the design from ordinary to extraordinary.


Khirbeet underlines how vital communication with partners is for success in his business. When COVID first hit, real estate developers encountered many roadblocks, including uncertainty around lenders funding their projects. Khirbeet says that the reassurance Fund That Flip provided helped give him confidence to continue to work and scale through the difficult times.



It can be difficult to grow from doing one project at a time to multiple projects at once. Khirbeet explains that the biggest challenge in scaling your real estate investment business is finding a reliable source of capital. He credits the success of his growth to the speed at which Fund That Flip has financed his projects.

"The most important thing when you're looking for a lending partner is communication at fast speed and with quality - surround yourself with a good team. For us, having the right partner to work with like Fund That Flip is important to complete the circle of success."
Ready to scale your own business? Apply in under two minutes to get fast funding for your next real estate deal. Click below to get started: