Subscribe to Real Estate Investing Unscripted on Apple Podcasts, Google Podcasts, Stitcher, or Spotify.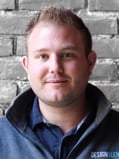 This week's episode features Brian Corcodilos, Founder and CEO of Designblendz, an architectural design and building information modeling services firm based in Philadelphia, PA. Hear Brian talk about getting his start in investing, some of his early challenges, and how visual renderings can have a huge impact on the way you market and sell your properties.

Matt Rodak:
Welcome to this episode of Real Estate Investing Unscripted. I'm your host, Matt Rodak, founder and CEO of Fund That Flip. As always, I am excited about our guest today. His name is Brian Corcodilos. He is the founder and CEO of www.designblendz.com, a fully integrated architecture, design and build firm located down in Philadelphia. Welcome to the show, Brian.
Brian Corcodilos:
Hey, thanks for having me.
Matt Rodak:
Full disclosure, Brian is a client. He's a good friend to Fund That Flip. I had the opportunity of visiting your office about a month or so ago. It's a really cool space, you are doing some really cool things in the Philly market. I'm excited to hear about how you got into the business, and some of the stranger things you've seen from the seat that you sit. Could you tell us a little bit about the firm, what you guys do, how many people are working there, who are you serving, and who are your clients? The whole rundown, if you would.
Brian Corcodilos:
I'm Brian, and interesting thing, I never thought I'd ever be in real estate. I started in the restaurant industry, which is really funny. My dad's side of the family is in that business. I didn't want to work seven days a week in the business; I wanted to go learn how to design restaurants, and that started my trajectory through architecture school. I have a Bachelor's of Architecture. I'm not licensed, but we came up with an idea when we were in college to service small to mid-level developers and help them with enterprise level services that typically many of these big home builders provide to their clientele. Such as architectural services, real estate marketing and construction management.
We started off by doing $200 renderings for architecture firms and developers, and slowly transformed into an operation where we are able to provide turnkey services through the entire soft-cost phase of development. We also have 1 to 10 units of construction on the GC side. To give you an example, my architecture team, in-house, is designing single family homes -- sometimes even full gut renovations with third story additions -- all the way up to 100-unit apartment buildings for some clients.
In the next phase, you need to pre-sell/pre-lease that real estate, so my visualization team is handling projects all over the nation. Today, we signed a project in Point Loma out in San Diego for 15 new houses that are going up. We're helping them with renderings, floor plans, interior renderings which helped them pre-sell these beautiful homes. Compared to Philly pricing, it's triple the price. We've helped market resorts and senior living facilities. You name it; we've probably done a rendering of it.
Lastly, it comes to our construction team, in-house. Obviously, we do our own stuff. We have a little bit of money on the street with Fund That Flip, but 90% of what we do is client-based. Developers hire us as a competent GC to manage their entire process. We pull the permits. We handle it from digging out the foundation underpinning all the way to helping hand off keys to home buyers. We have clients that use us a la carte, so they already have their architects and just need us to help them market. Then they go build it themselves. We also have clients that come to us and say: Hey, I just got this piece of land under agreement, what can I put here? Help me design it, help me market it and let's hand off keys to home buyers.
You can use us any which way. It keeps it fun for my staff because every client uses us differently. We fill those enterprise-level needs so these small to mid-level developers can compete with the Toll Brothers and KB Homes of the world.
Matt Rodak:
You primarily focus your services around real estate investors. If I wanted to build a house for myself to live in Philly, that's not really what you guys are doing. It's mostly the investor and small developer universe?
Brian Corcodilos:
I just put out an Instagram post that we're building a single family home for a family of four.
Matt Rodak:
Is that a one-off?
Brian Corcodilos:
It has to be the right client; they have to be very understanding. We've learned the hard way that homeowner clients get very emotional. Unless you're at a point to be able to handle that side of it, we don't really focus our energy towards that. If it comes up and it's the right project and the right client, we'll definitely have a conversation. We've learned, at least at this point in our operation, to "do what you do best" -- and developer clients and broker clients are some of the best. That's who we work well with.
Matt Rodak:
What about the first-timer? Let's say I'm a business professional. Pick whatever my day job is -- maybe I'm an attorney, maybe I'm a doctor, maybe I'm just a business guy. I have some money, I find a piece of property that I buy and I've never done it before. Would it make sense for me to come to you and ask: Hey Brian, I don't really know what I'm doing. I've never done this before, but I got this deal on the property. I want to build two condos or a single family home. Is that something that you are focused around too, or is it more the people that have done it before?
Brian Corcodilos:
No, that's pretty much our ideal clients because we can help them through the entire process. Obviously, the guys that have done it before might have prior relationships for building. An ideal client for us is someone just getting into it because we can hit every aspect for them. We want it to be successful, so even if they choose not to go with us to build next time, they are still going to use us for the architectural and marketing services.
Matt Rodak:
Got it. We see a lot of first-time flippers. They may have a great deal, but as you know, the execution of the thing is where can get tricky. You guys help de-risk a lot of that. Not only for lenders like us, but also for the first-timer that is going to have their hard earned equity in the project. It's a great way to de-risk it, I would think.
Brian Corcodilos:
Yes. Essentially, we're able to guide them. My passion is actually teaching, so it's really exciting for me to watch a client that's never really done this before, and help them with their first new construction. That's a lot of fun and our team really gets a lot of joy out of that.
Matt Rodak:
That's really cool. You talked a little bit about your family that is in the restaurant business. You didn't want to be working the restaurant hours so you went into architecture. Talk a little bit more about how you went from doing $200 renderings to having -- and you even have a wholesaling business where you're out finding opportunities. How did it become what it is and how long did it take you to get to where you're at?
Brian Corcodilos:
With just the Designblendz piece, we're currently at 25 people. The wholesaling company, which is called Oakmont Acquisitions, is a sister company of ours and not owned by Designblendz. I'm a silent partner. They're very strategically aligned with us. There are 3 people in that organization as well.
I realized there was a lack of people providing these types of services to clientele in a mass way. There is no one you can go to that could help you with your architectural drawings, give you the best designs out there, know what else is being built, and then be able to help you actually market and sell that. It seems like a very basic concept and that it should be done, but no one was actually executing well on it.
Then we started adding little-by-little. We started with the visualization side with those $200 renderings. We had clients that we were doing $5,000 to $10,000 marketing packages for helping them market their real estate that they had designed by another professional. Now these clients are not only using us for the renderings, but we're also their architects. A specific client that I'm thinking of in my head is actually giving us the opportunity to bid on an upcoming project of 5 homes that he's building and that we're designing and marketing for him. It's cool how we really "back-doored" our way into the industry through the visualization and marketing side.
Then we've started layering on additional services that our clients need help with. We're even looking at opening up an expediting division of our company. It will enable us to have people full-time handling the permitting process on a daily basis, not just a once or twice a week that our architectural team currently handles internally. We ask, what are the services that we can set up to make the ease of the development process that much easier for our clientele? That's what we're doing.
Matt Rodak:
You're doing what every good entrepreneur does -- you're listening to your customers and figuring out how you can leverage your strengths to provide services that ultimately bring value. That's super cool. We're a technology company. I know you guys are using some tech and even building some tech around what can be built on sites. The tech also determines what people are putting into homes as finishes, and it makes sure you're optimizing sales prices by what the end buyer is going to ultimately want. Where are the design trends going? Talk to us about how that came to be. What are you guys doing there?
Brian Corcodilos:
Again, it goes back to listening to your clientele. Every week we get a job through the door and the client asks: what can I build here? If I had $10,000 for every time a client asked that, we'd be done by now. To be realistic, we started listening. Wouldn't it be nice if we could create a piece of software that could tell you what can be built in Philadelphia? And that's exactly what we did. So, we started developing a piece of software and soon we will be releasing a beta version for people to test out and give us feedback on. We wanted to essentially eliminate that question from our clients.
We started listening to who was asking that. Then, I started looking at how long those people have been doing it. You'd be surprised that guys that have done 20 houses still need to know what can be built. Even a single family house. What can I build here? What is going to be the square footage? How many square feet per floor? Can I do 70% lot width or is it 80%? Oh sh*t, it's a corner, so it's 80%. Now I need a checklist too. So, we started eliminating these questions from our clients. It allows them to focus on finding more deals -- and to bring more deals back to us quicker -- so we can handle all the soft-costs and build services for them.
Matt Rodak:
Thanks for sharing that. I think it's awesome that you've built such a successful business just by paying close attention to what your clients are asking for, and then solving it for them. It's really all business is.
Brian Corcodilos:
That is the motto.
Matt Rodak:
As you know, the theme of the show is Real Estate Investing Unscripted. You've probably seen more of it than the average investor in the seat that you sit in. Give us an example of something that's happened -- either to you on one of your projects or maybe one of your clients -- that no matter how much planning you did, you just couldn't have planned for it. How did you work through it? What was the outcome? More importantly, what did you learn from it and how have you worked that into how you think about flipping houses or advising your clients on developing homes?
Brian Corcodilos:
That's a good question. I'm going to tell you the story of our first renovation. We did our first renovation, bought a house for $38,000 up in Easton, PA. If you're not familiar where Easton is, it's north of Philadelphia. You can take 611 all the way up, or it's the first exit on Route 78 when you get into PA coming out of New York and New Jersey. I think 78 runs you all the way to Manhattan. It's a blue-collar area. We thought this would be great. We can sell the house at $140,000 or $150,000. It needs $60,000 in work. The spread is there, we'll make some money. Great. It's our first flip, so obviously, we were still just getting started. If I tell you we had an employee at the time besides directors, that might be stretching it. I think Mike -- our Director of Construction now who is handling $5 million in construction -- was still working full-time and working part-time at Designblendz at the time. So, this just tells you how far back it was.
Matt Rodak:
Early days.
Brian Corcodilos:
Early days -- 2013, 2014 -- early days. We bought the house and started getting into it. One of the issues we ran into -- and I was later notified by Easton officials that this is one out of four houses in the entire city of Easton for this issue -- originally back before I was born, the property was actually split in half. There was a house in the front and a house in the back. They had subdivided the house in the back, off. Someone was living there, but that house was actually originally the garage of this original house. Someone had slightly renovated it at some point and made it into a living unit.
Well, the slight issue was there was still plumbing from that house that existed in the house that I bought, and I didn't know it. You can probably imagine what plumbing existed in my house. You have water lines and you have sh*t lines. Both of them ran through my basement.
Matt Rodak:
Was that still a house back there? People were living in that other house?
Brian Corcodilos:
Separate property, subdivided. There was some sort of easement agreement that my title company didn't find during due-diligence. This was at the end of the property. We wondered, what the hell is clogging? As we were going through finishes, the plumbing is backing up in the basement. Come to find out, it's literally a sh*t pipe from the property behind us that is flooding my basement that we're trying to finish. Could we open it up? Do we retrench it to the street? We were looking at options and decided we were just going to leave it and notify it on the deed. We ended up getting it cleaned out, but it was an unforeseen issue that you never would have expected to run into.
Matt Rodak:
That's wild.
Brian Corcodilos:
That's one of them. The other issue is: background checks are a real thing, and I recommend you run them on people. When your GC is constantly being driven around by somebody else and you don't even think anything of it? This is my guy, he's my project manager, he's driving and your contractor is sitting in the right seat. I look back now and I laugh. If I was a head GC, I'd be letting that guy drive for me.
A convicted felon I had hired -- first one to be the GC of the project and fortunately the program I joined has helped back me -- but he said: I need $5,000 more dollars, we're going to have this done. He tries to start doing certain areas of the house to get a little bit of money, but essentially he never finished things on time or finished what he said he was going to finish. I found out he was a felon, and he didn't have a license to actually drive. So I fired him and had to hire new guys. I had contractors claiming that they were going to file liens on my property because this guy didn't pay them. Me, being a new investor I wanted to work something out. I'm not realizing that these guys are trying to double dip on me because I had already paid the contractor for work that they had done.
Then, come to find out, the HVAC system wasn't done properly. I had to repay for that. It was just issue after issue of being a new investor and not necessarily diving in and fully understanding. Not to mention, I'm doing this part-time while trying to grow out other entities of the organization. It was an hour from my house so I'm trusting that the guys I hired knew what the hell they were doing. My horror story didn't go as bad as other people's. At the end of the project we still pretty much broke even, we didn't lose. We made a few thousand dollars and ended up selling the property for $155,000. I paid contractors twice -- and three times in some instances -- to redo portions of the property.
Matt Rodak:
We always tell people, don't try to hit a home run on your first one, just try to learn a lot. It sounds like you accomplished that.
Brian Corcodilos:
I tell people everything that went wrong could have gone wrong on my first project.
Matt Rodak:
Old housing always has so many interesting, weird stuff with title. First lesson learned is to look at the property, other properties situated near the property, and see if there is any potential that there could be something weird going on. Second is to do due-diligence on your contractors. Background checks. It makes a lot of sense.
Brian Corcodilos:
I got a reference from a lady who could have been his mother for all I know. I should have had two or three references, and had conversations on the phone with these people, not just via email. There are a lot of lessons I could have looked back and could have saved myself a little bit. Live and learn.
Matt Rodak:
Could have been worse, as they say. Great story. So, where are you going? Designblendz is up to 20+ people, almost 30 people. It sounds like you are adding a lot of value for your clients. Where do you see Designblendz being in the next two to three, four years?
Brian Corcodilos:
We're definitely planning on jumping cities. We're not leaving Philadelphia, but expanding. We're looking at DC, Chicago, North Jersey, and New York. We know that if we can get it right in Philadelphia, we can take this to any other city in the US. I look at it from the standpoint of -- there is a rendering for $450,000 house. The same house is going for $800,000 in Chicago. Or an $800,000 house here is going for $1.2 million in Chicago.
I know that is a lot of opportunity. I look and see what other people are doing, and there isn't a company that offers small to mid-level services like we do in those cities. There are all the pieces, but there is not someone that holistically puts it together properly. We are going to take our processes and our systems will built, and drop them in other cities when the time is right. For sure in three to four years. That's definitely happening.
Matt Rodak:
That makes sense. I can tell you from where we sit -- and we see a lot of this type of activity, at least on the the buy, fix, and sell perspective -- we've yet to run into a firm that is as full service as you are. I look forward to seeing that growth. Let's wrap it with this, Brian. If any listeners out there want to get ahold of you, what type of investor -- and I guess right now specifically to Philadelphia -- what type of investor is best suited for you? How do they get ahold of you? How can someone hunt you down if they want to find you?
Brian Corcodilos:
If you're building real estate in Philadelphia, you should at least have a conversation with us at some point. Whether we are to be your builder, architect, or visualization person or not, there is some value that we can provide you. Whether it's a referral or a connection -- we get asked, what lawyer do you recommend? We work with most of them. We can provide you knowledge at any point. Working with us is great, but from 1 to 100 units, we can definitely help you out. You can visit our website at www.designblendz.com. If you want to reach out to me directly you can email me at brian@designblendz.com. If you email me, I always check it by the end of the week.
Matt Rodak:
Awesome. I appreciate you for sharing due-diligence, your project's due-diligence, your contractors. Most importantly -- and I think this applies to all businesses no matter what kind of business you're trying to build -- get out, talk to your clients, and listen to their needs. Figure out if you're uniquely positioned to serve them and solve a problem. Good things will happen.
I appreciate your time, Brian. This was great. Thanks so much and thank you all for listening to this episode of Real Estate Investing Unscripted. If you want to get ahold of Brian, it's brian@designblendz.com. For other great resources, or to get funding for your next project, head to www.FundThatFlip.com. Otherwise, I look forward to having you here on the show next time. I'm your host, Matt Rodak, signing off.


--
Thank you for listening to this episode of Real Estate Investing Unscripted. For more resources or to fund your next project, head on over to FundThatFlip.com.


Subscribe to Real Estate Investing Unscripted on Apple Podcasts, Google Podcasts, Stitcher, or Spotify.
Ready to get funded? Apply in under two minutes and get instant feedback on your application: